The factory and head office

Ekaterinburg

Call time

weekdays

8:00-17:00

Ekaterinburg time

04:39
Pneumatic Lens Hood for TVK-07
Pneumatic Lens Hood for TVK-07 Series Thermohousing Sight Glass Cleaning
Ship date checking
Other products:
UDP IP535-07e "START"
Ex-Test
Dozor-4
Price per selected equipment set:
Price for Russia
6 325.00
c
(including VAT 20%)
Quantity:
Make an order
Shipping date: 7 days
selected equipment set:
Detailed description
Pneumatic LENS HOOD for cleaning of TVK-07 series thermohousing sight glass
Thermohousings of TVK-07-N, TVK-07-S and TVK-V series in all modifications can be equipped with a LENS HOOD in order to avoid dirt accumulation and cleaning of the sight glass by creating excessive air pressure in front of the glass. Attention! It is necessary to supply compressed air to the lens hood. Average air consumption at 1 Bar is 2 L/sec., at 2 Bar - 4 L/sec.
Lens hood image: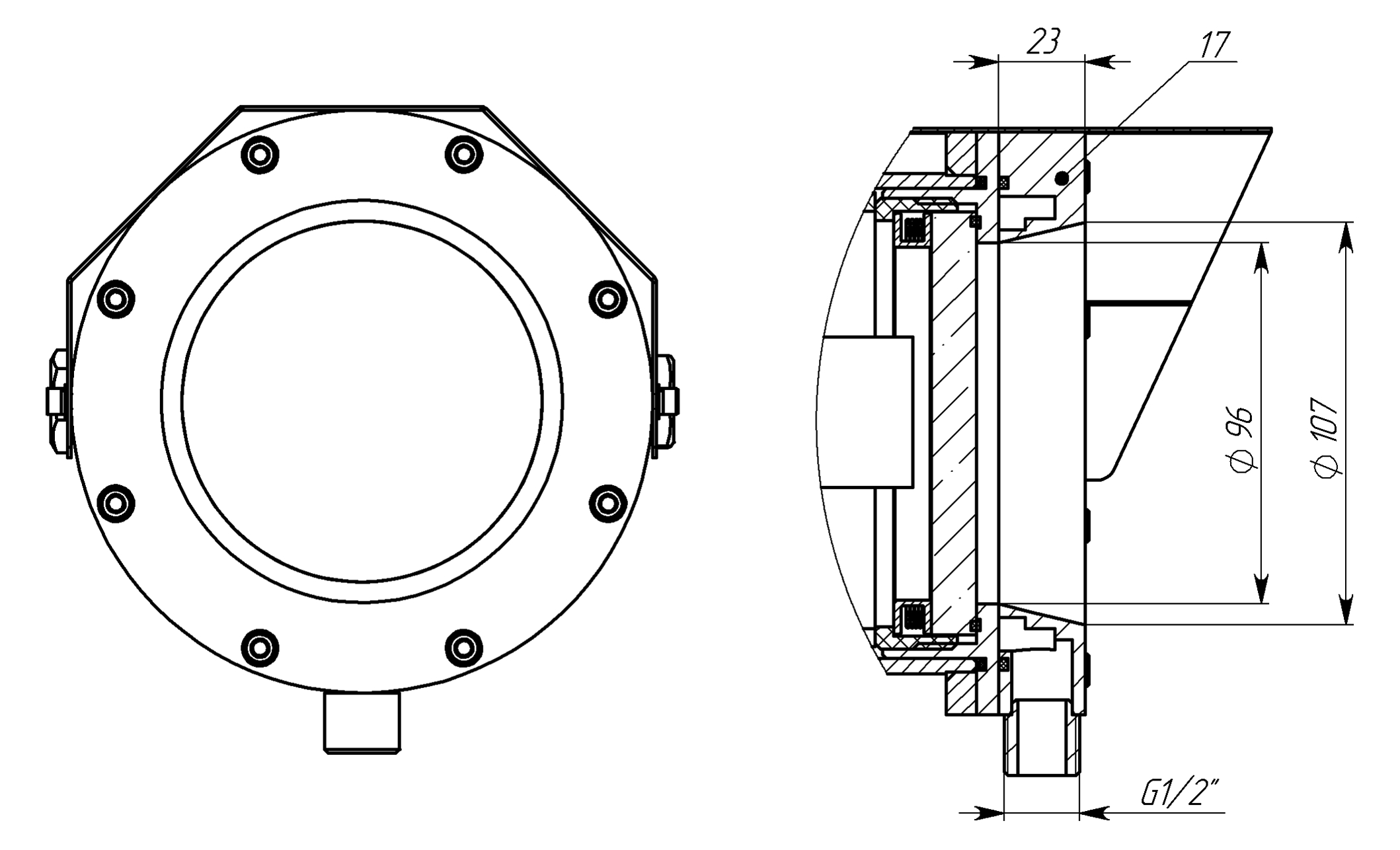 Distinctive features and characteristics
It is made of galvanized low carbon steel and stainless steel.
Excessive pressure prevents dust and dirt from accumulating on the sight glass of the thermohousing
Installation on the standard flange of the TVK-07 series thermohousings is possible; fasteners and seals are included in the scope of supply
It can be used in underground (mining) development and extraction of coal, mineral salts and other mineral deposits.
This product can be used at ambient temperatures starting from -60 °С.
Air supply is carried out via a union with G½"

outer thread.
Air consumption at certain pressure levels:
1 Bar - 2 L/sec.,
2 Bar - 4 L/sec.
Overall dimensions: 177 х 23 mm
Weight: 1 kg
Вы добавили оборудование:
Pneumatic Lens Hood for TVK-07
Оформить КП
Продолжить подбор оборудования
Other products:
UDP IP535-07e "START"
Ex-Test
Dozor-4
Order item:
Pneumatic Lens Hood for TVK-07