The factory and head office

Ekaterinburg

Call time

weekdays

8:00-17:00

Ekaterinburg time

05:17
EKRAN-a Explosion-Proof Addressable Fire Annunciator
Ship date checking
Other products:
EKRAN-a-KKV
VS-07ea
VS-07ea-I
Price per selected equipment set:
Quantity:
Make an order
Shipping date: 7 days
selected equipment set:
Detailed description
EKRAN-a Explosion-Proof Addressable Fire Annunciator
It is designed to be used as a light or acoustic and light means of notification and information indicator; it provides light and acoustic signals in explosive areas. The annunciator is designed for operation only as part of adressable loop of devices with support of "Dozor-07a" protocol.
It is used at chemical, oil and gas production, oil and gas processing and shipbuilding industry enterprises and in explosion hazardous areas of other production facilities.
Text, pictograms, message color, panel backgound color and cable length exceeding 1.5 meters are available upon request.
Modifications:
EKRAN-a-S: light annunciator with flashing operation mode of the panel (upon request, option with constant glow of the panel can be supplied)
EKRAN-a-SZ: acoustic and light annunciator with flashing operation mode of the panel with minimum acoustic pressure of 100 dB;
EKRAN-a-S and EKRAN-a-SZ annunciators are available with an additional light and information section "Automation off".
Distinctive features:
connection by means of 4-wire line
power supply of the electrical circuit of the annunciator is provided from the addressable loop
power failure and short circuit control is provided from an external source
Key features:
each fuction of the annunciator has a unique factory (serial) number identified either by the receiving and monitoring instrument Dozor-1A or by a similar device supporting the Dozor-07а protocol
high dust, moisture and impact resistance IP66 and vibration stability (filling with compound)
Design:
The dimensions of the principal section's information field are 250х100 mm
manufactured in polycarbonate body
canopy installation is possible (option) ATTENTION!The canopy is not included in the standard supply package!
Annunciator diagram: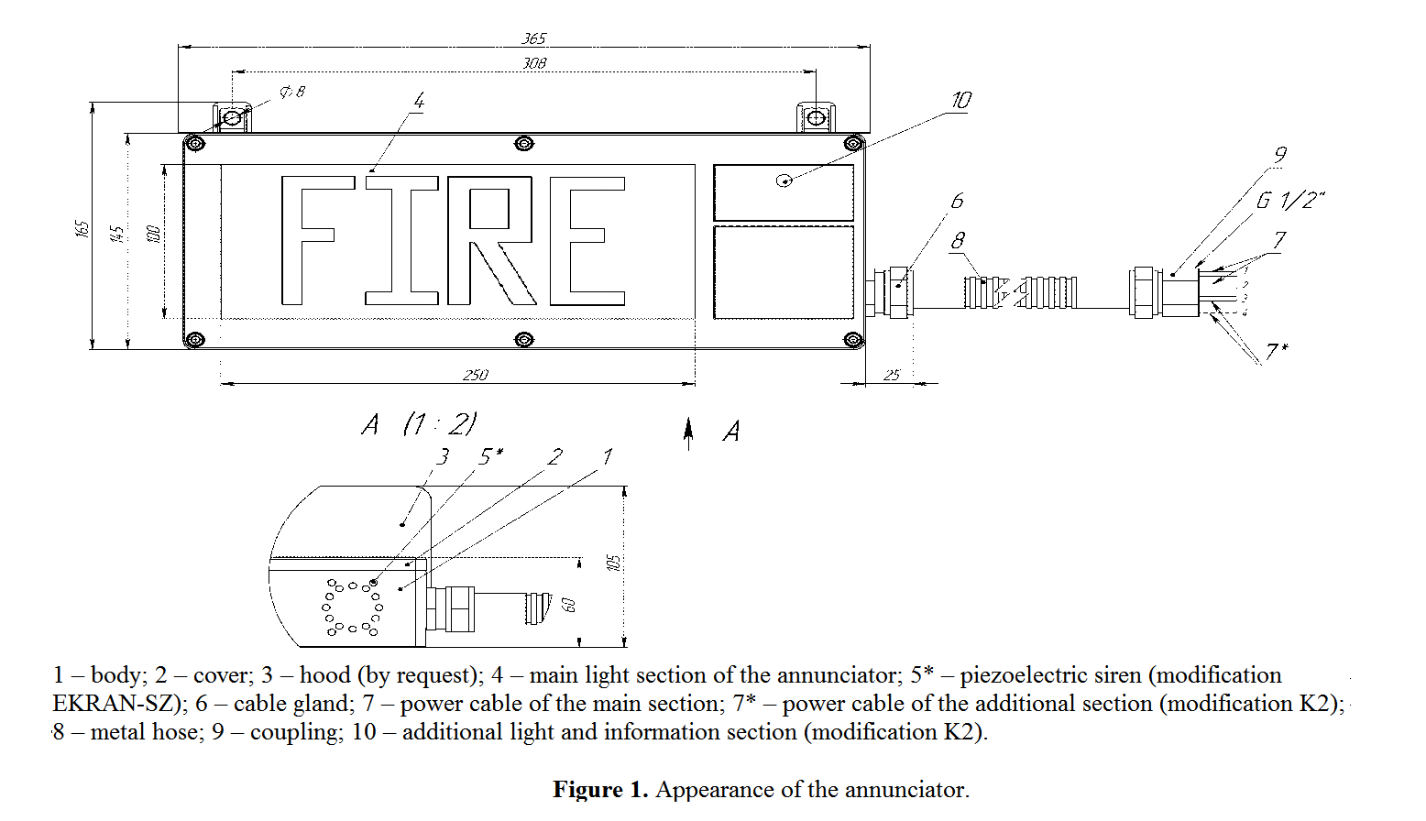 Key features:
high dust, moisture and impact resistance IP66
vibration stability (filling with compound)
To order an Ekran annunciator call: +7 (343) 351-05-07
| | |
| --- | --- |
| explosion proofness marking | 1Ехmb[ib]IIT4 X |
| dust and moisture resistance | IP66 |
| minimum sound pressure at a distance of (1.00±0.05) m, dB | 100 |
| supply voltage, V | 12-24 |
| maximum current consumption from power supply source, max., mA | |
| - light function | 210 |
| - acoustic function | 50 |
| - additional section | 50 |
| maximum current consumption, mA | |
| - from addressable loop | 2 |
| operating conditions, °С | from -60 to +85 |
| max. number of annunciators in addressable loop, pcs. | 120 |
| max. overall dimensions, mm | 390х170х60 |
| max. weight, kg | 2.5 |
| lifetime, min, years | 10 |
| warranty period, years | 5 |
Вы добавили оборудование:
EKRAN-a
Оформить КП
Продолжить подбор оборудования
Other products:
EKRAN-a-KKV
VS-07ea
VS-07ea-I
Order item:
EKRAN-a