The factory and head office

Ekaterinburg

Call time

weekdays

8:00-17:00

Ekaterinburg time

04:16
KKV-07e-T three-way switch-box
KKV-07e-T Explosion-proof three-way switch-box
Price per selected equipment set:
Price for Russia
6 426.00
c
(including VAT 20%)
Quantity:
Make an order
Shipping date: 7 days
selected equipment set:
Detailed description
KKV-07e-T Explosion-proof switch-box
It is designed for connection and branching of general and special purpose electrical circuits (control and power cables of automatic and telemechanics systems, control and alarm circuits, etc.) in explosive areas.
It is used at chemical, oil and gas production, oil and gas processing industry enterprises and in explosion hazardous areas of other production facilities.
Explosion-proof switch-boxes KKV-07e are manufactured in the following modifications:
KKV-07e-T explosion-proof three-way switch-box;
KKV-07e-U explosion-proof angular switch-box;
KKV-07e-P explosion-proof pass-through switch-box;
KKV-07e-K explosion-proof cross-shaped switch-box;
KKV-07e-A -(P, U, T, K) explosion proof switch-box with a transition board for installation of address marks.
Distinctive features:
explosion proofness marking 1ЕхdIICТ4/Т5/T6 Х;
hermetically-sealed explosion-proof body IP67;
operating temperature from - 60°С to +100°С;
effective internal volume 200 cm³
it can be used for explosion proofing of address marks that are placed inside.
To order an explosion-proof switch-box now please call +7 (343) 351-05-07
Our e-mail: market@eridan-zao.ru
Effective internal volume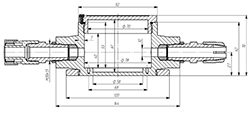 Technical data
| | |
| --- | --- |
| Clamped wire section, mm2 | 0.08 - 2.5 |
| Maximum switching current, A | 32 |
| Maximum current, V | 400 |
| Operating temperature of boxes, °С | from - 60 to + 100 |
| Maximum weight, kg | 2.0 |
| Minimum design lifetime, years | 10 |
Boxes' dimensions
Modification of box
With cable glands
With unions
L1, mm
L2, mm
L1, mm
L2, mm
KKV-07e-P
250
120
208
120
KKV-07е-U
185
185
164
164
KKV-07e-T
250
185
208
164
KKV-07e-K
250
250
208
208
Scope of Supply
Designation
Number of units per item
Note
KKV-07e-P
KKV-07е-U
KKV-07e-T
KKV-07e-K
box
1
1
1
1
WAGO junction terminals
Upon request

(not for KKV-07-e-A)

for 2 conductors
5
5
*
*
for 3 conductors
*
*
5
*
for 5 conductors
*
*
*
5
terminal key WAGO
1
1
1
1
for KKV-07-e-A
sealing ring

d8 mm for cables Ø6-8 mm

d10 mm for cables Ø8-10 mm

2

2

2

2

3

3

4

4

special wrench for the cover
1
1
1
1
Per package
hexagon wrench
1
1
1
1
expansion shield, self-tapping screw
3
3
3
3
* possibility of supply is to be confirmed at the time of order
Cable glands designation:
Equipment is supplied complete with
three
cable glands at the customer's choice:
Appearance
Designation
Definition

ShT1/2"

pipe union for pipe arrangement with the thread G½"

ShT3/4"

pipe union for pipe arrangement with the thread G¾"

ShT1"

pipe union for pipe arrangement with the thread G1" (

NEW!

)

Sh M20

pipe union for pipe arrangement with the thread М20х1.5 (

NEW!

)

ShT25

pipe union for pipe arrangement with the thread М25х1.5 (

NEW!

)

KVB12

cable gland for armored cable with max.armor Ø 12 mm

KVB17

cable gland for armored cable with max.armor Ø 17 mm

KVBU14

cable gland for armored cable with outer diameter 10-14 mm with double seal along the cable external insulation and cable wrapping with any armor type

(

NEW!

)

KVBU18

cable gland for armored cable with outer diameter 14-18 mm with double seal along the cable external insulation and cable wrapping with any armor type (

NEW!

)

KVBU22

cable gland for armored cable with outer diameter 18-22 mm with double seal along the cable external insulation and cable wrapping with any armor type (

NEW!

)

KVM15

cable gland for installation in metal hose with nominal inside diameter Dn=15 mm

KVM20

cable gland for installation in metal hose with nominal inside diameter Dn=20 mm

KVM25

cable gland for installation in metal hose with nominal inside diameter Dn=25 mm

KVO10

cable gland for surface laying of cable with outer diameter of up to 10 mm

(

NEW!

)

KVO14

cable gland for surface laying of cable with outer diameter of up to 14 mm (

NEW!

)

ZG
KKV-07e-T Explosion-proof three-way switch-box
Вы добавили оборудование:
KKV-07e-T three-way switch-box
Оформить КП
Продолжить подбор оборудования
Order item:
KKV-07e-T three-way switch-box